Baby cows were common on our farm all year round. Our only pregnant cow this particular Christmas break was Princess. So, when she went into labor one cold afternoon, my banker/farmer dad monitored her progress. He watched her in her clean stall after his office closed and through the evening. Unfortunately, her typical labor didn't progress typically. This calf was breech (feet first) and this situation put Princess and her calf in danger of death.
After a quick call to the vet, Dad hollered up from the barn. Time was short for the cows, and they needed our help. Princess couldn't deliver this calf on her own. She needed human intervention and a Christmas-time miracle.
Dad recruited my city-slicker boyfriend's help via his muscles. My sweetheart was already acclimated to our farm life. This wasn't his first visit, so he understood as an honorary member of the family, he was expected to pitch in with the chores as needed. Usually, that entailed collecting the eggs and feeding the chickens. Maybe he carried up some firewood in the evening.
Down in the barn, in the frigid winter temps, Dad attached a pulling chain to the poor little calf's ankles. The bitty back hooves were already out, but the rest of his body was stuck in the canal. Hitching the chain up and over a beam above their heads, Dad and my beloved hung their full weight and pulled on that chain with all their might. It seemed like eternity for the baby to start moving, but once it started, SLOOP, that little darling slid right out.
My honey had never seen such an event before; not even puppies. Heck, the only beef he'd encountered before meeting me had been served up on his dinner plate medium rare.
This night, though, my tough guy's face glowed with amazement at the incredulous wonder he'd just witnessed. His hands helped bring a living creature into our world. Never had he been such an important part of a baby's birth. As a reward for his involvement, he was bestowed the honor of naming the newest arrival.
"Magic," my awe-struck fiancé sighed.
"His name is Magic. It was the most magical thing I've ever seen."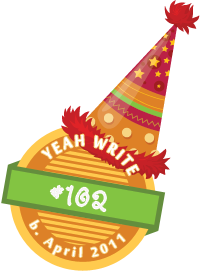 I'm linking up with the sweet folks over at Yeah Write. It's a party and YOU are invited!